The Musical Marsh Family During Wartime in Halifax
By Sharon M. H. MacDonald, HWHS Chair
Volunteer musicians played an enormous role in helping to entertain the troops, waiting in Halifax to go overseas. Women volunteers played the piano, sang and danced in the evenings — giving their time and talent — after a  full day of work. Several members of the musical Marsh Family were among the performers. Mother Flora was a talented pianist, who could play anything by ear, and her daughters, Doris and Mary, became members of a choral group — part of the famous Concert Parties. Doris went on to become one of the trio of women known as The Three Debs, a group managed by Mary. They had a national radio show and their volunteer work did not stop when the war ended — they went on tour to Europe. Here is the Marshs' story as told by Doris and an audio recording of The Three Debs.
Flora Marsh (nee MacQuarrie), born in Glace Bay, grew up in a talented family where all the children played or sang music, ranging from classical to popular, from opera to vaudeville. In 1936, the recently widowed Flora moved to Halifax with her family of four teenaged children. Her daughter Doris, wrote of the family's wartime experience:
Mother [Flora] was very active in volunteer work, mostly playing the piano at the local hostels – and could she ever play the piano! She could play any song in any key and if she didn't know the piece, after it had been hummed to her she could make up the piano part… She was just great and I'm afraid we didn't really appreciate her wonderful talents at the time.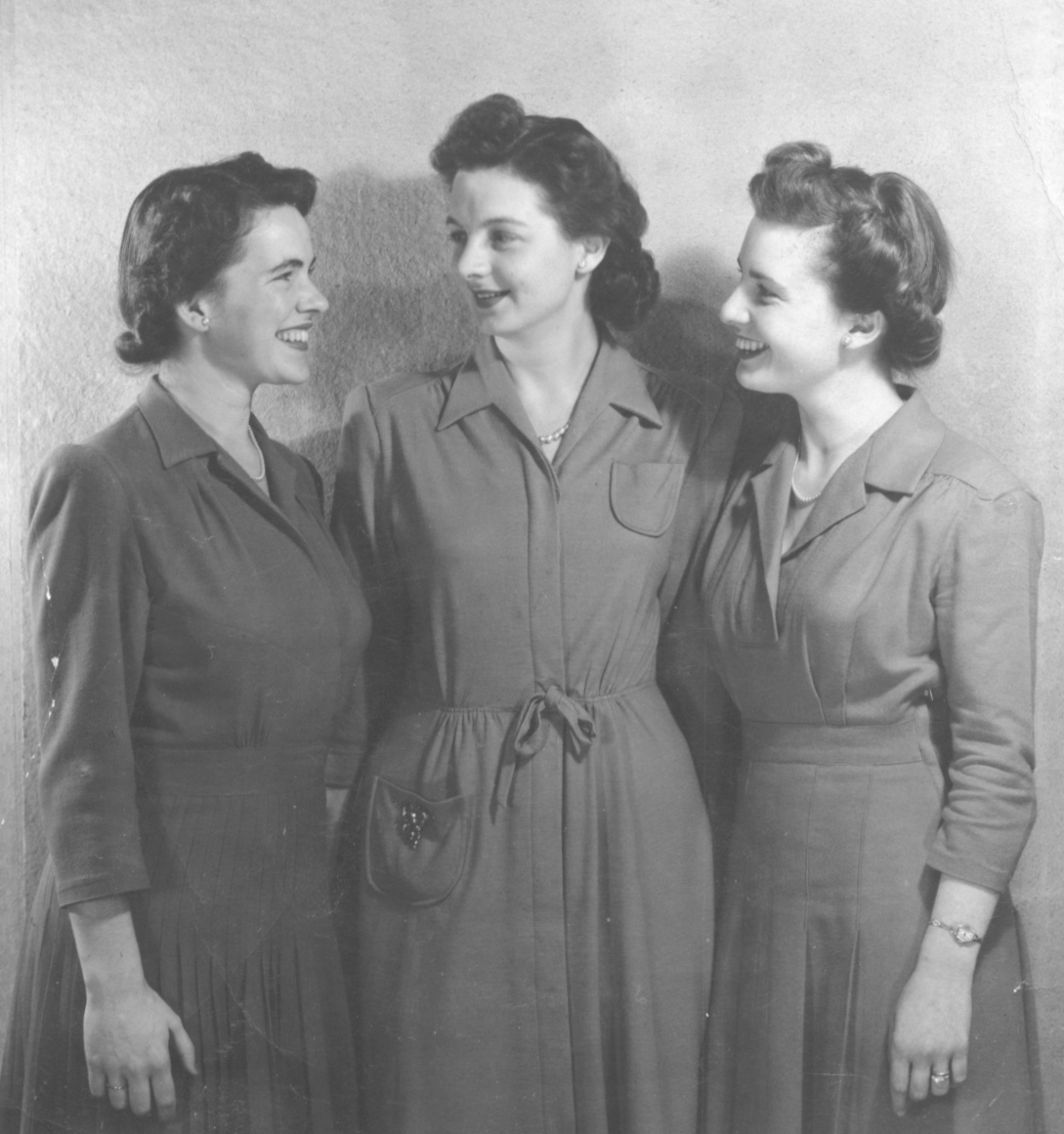 When World War II broke out, Doris was 19 years old. She and her sister Mary were both working as secretaries at the time, but because they had inherited the MacQuarrie passion for music and performance, they shared their interest with others. Of this time, Doris wrote:
We in Canada had six years of war and it was a difficult time as well as an interesting time. Halifax is a large and wonderful seaport, the main embarkation port for most of those who went overseas. The city was overcrowded with soldiers, sailors, merchant marine, air force and army, as well as their wives and families. All the Halifax residents were called upon to share their houses with these folks, so Mother rented out a room to various and sundry service personnel all during the war.
Meantime, an enterprising local man realized that all this great influx of service personnel needed some sort of entertainment. This man, Hugh Mills (known as Uncle Mel) proceeded to organize "Concert Parties," consisting of amateur singers, dancers, comedians and instrumentalists, who voluntarily gave their talents to entertain the troops who were waiting to go overseas.
My sister Mary and I were recruited to join a chorus of young ladies and our director, Lois MacGregor, trained us to give a pretty nice performance of choral numbers, solos, duets and trios. I was lucky enough to be part of the trio and we went on to sing as a trio all through the war and also were featured on a coast-to-coast radio show called "The Three Debs" for a year and a half. All these girls in the chorus were working at jobs during the day and we did our shows for the troops at night. We usually did two a week.
Listen to audio recordings of The Three Debs:
Doris's sister Mary managed The Three Debs — just the beginning of her active engagement in the theatre arts. Later, she would go on to direct and produce musicals and other theatricals, gaining a well-deserved reputation for enriching the cultural life in Cape Breton.
The Three Debs did not stop when the war ended. In Doris's own words:
When the European peace was declared a group of the Halifax entertainers were asked to go to Europe to entertain the Canadian troops who were waiting to be shipped home. Our trio was included in this group and it turned out to be the experience of a lifetime!
We were all to be under the protection of the Canadian Army and had to wear army uniforms. We were housed and taken care of by the Army and had a stage crew of five enlisted men as well as an officer who acted as our liaison.
We departed Halifax about mid-July 1945 and were to board the Ile de France which was tied up at the piers in the harbour. The van was to pick us up at our homes around 6:00 p.m. and I was already and waiting with my two duffle bags packed and dressed in my army uniform. I was seated by an open window finishing up my supper when BANG, Mother and I were nearly blown off our chairs by a terrific blast that shook the house. We didn't know what to think, but soon the phone rang and I was told that I would be picked up on time and that the blast came from the ammunition dump [Magazine Hill] across the harbour. It was blowing up in one or two departments, but they hoped to contain it. You can imagine how excited I was about going to Europe, but also how I hated to leave Mother there with the possibility of the town blowing up!
Doris did board the ship and it moved to the mouth of the harbour where it was deemed safer in the event of further explosions. In the morning the Ile de France set sail for Scotland with about 1200 people on board. Docking at Greenock, the group took an overnight train to London:
We were given K-rations to eat. Things were getting war-like! In London we were met by an army officer who lined us up on the platform, army fashion, and tried to get us organized. It was a scream to us, though he was quite put out with our giggles and missteps. He finally herded us into a bus and we were taken to a lovely Surrey estate, Deane Lodge, which housed entertainers.
Doris and her fellow performers were given a week's holiday before starting their tour. From Deane Lodge, they drove all over the area giving shows – either one or two a day. After about three weeks, they were sent to Belgium.
Our Concert Party was called "the Halifax Heralds" because the local newspaper sponsored us financially. We were eleven performers plus Mr. and Mrs. Hugh Mills. He acted as MC of the show and she was a chaperone. In our show there were our trio; a duet; two dancers; two pianists who also played accordions and accompanied every number, and a wonderful soprano soloist, and the only man in the show, a concert violinist. It was like a revue with lots of patter between each number. We worked hard, but enjoyed it. When we had to do two shows it was quite tiring. Incidentally, there were seven Concert Parties in all, roving the European continent; they were from other parts of Canada.
We spent most of our time in Holland as that was where the majority of Canadian troops were waiting to be repatriated. We went to northern Germany for about a month. We found Germany very depressing. It was weird to be in the country that had seen so many bombings by our forces. We were housed for the most part in Army barracks. However, occasionally we were housed by local people and I recall being housed by a German family in a dark spooky house – just the three of us. However, the German people were kind to us though quite wary.
All in all, it was a great tour. We did 100 shows. Sometimes we played in an auditorium, sometimes in a hospital ward, often in a barracks or recreation room and more than once we stopped by the side of the road and played on the tailgate of one of the trucks when we encountered a group of Army people or, as on one occasion, a large group of Jewish children who were resting on the roadside and were being taken to the airport to be flown to the States where they would be adopted. All had lost their parents in concentration camps.
On our tour we met many men who had passed through Halifax on their way overseas and we had some good reunions. At the end of the tour we were once again given a week's leave in London.
After more than five months of performing, Doris and her fellow performers travelled back to North America on a very crowded Queen Elizabeth along with 12,000 troops, often having to sit on the floor on lifejackets, for lack of seating. They found themselves in thoughtful, sober company – men returning home after having been gone for two to five years, separated from family and friends. From New York, a troop train took them to Halifax where they were reunited with family in time for Christmas.
Doris Marsh's wartime musical adventure captures the excitement of the times and also reveals the importance placed on the role of entertainment in maintaining the spirits of those who were going to and coming from the warfront.  While today we readily acknowledge the healing power of music, certainly it has always been known that music soothes the troubled brow. The volunteerism of many amateur but talented performers helped ease the stresses and strains during this very difficult time.   
– based on the personal reminiscences of Doris Marsh Carr, 1980.
With many thanks to Doris' nephew (and Mary Marsh Blanchard MacDonald's son), Stephen E. MacDonald, Sydney, for permission to share these stories.
For more detailed information on the history of the Halifax Concert Party, see Patrick O'Neill's essay, listed under heading "Her"storiography on this website. 
Note that Doris Marsh's name is spelled as Doris March in the article.